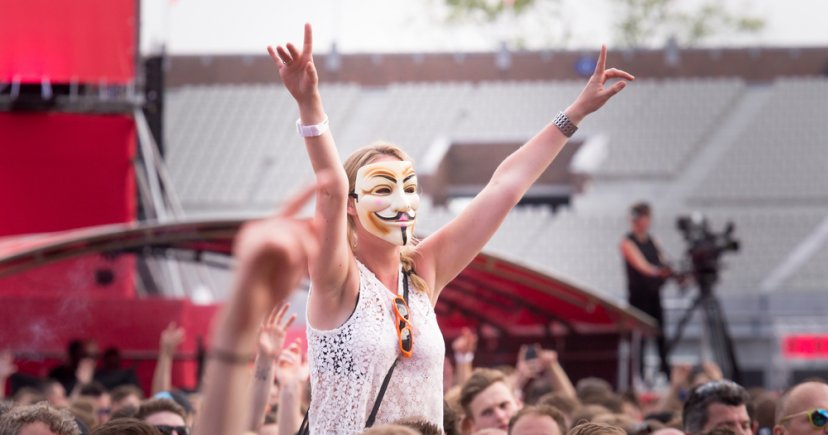 Music Festivals have recently become an exceptionally popular vacation. As the temperature rises each year, party goers and music lovers flock to large music festivals all around the world to rave to performances by top artists and feed off the energy of fellow music lovers.
Here is our selection for top Music Festivals around the world.
Tomorrowland, Belgium
July David Guetta, AfroJack, Avicii, Swedish House Mafia,Tiesto


Tomorrowland has recently become one of the most popular music festivals worldwide. The Festival has been recognized for winning the International Dance Music Award for Best Electronic Music Event. Tomorrowland is one of the most enthusiastic parties that normally takes place in July when we have perfect weather. There is a bit of bite in the atmosphere, and you will feel like dancing the entire night. The venue is filled with multiple sound stages, and some of the world's most breathtaking performances will make you feel like dancing the night away. This music festival averages over 400,000 patrons from around the world annually.
Ultra Music Festival, Miami, Florida
March Avicii, David Guetta, Skrillex, Tiesto,Armin Van Buuren,Steve Aoki and others


Ultra Music Festival is the most recognized electronic music festival in the US. Ultra Music Festival has been going on since 1999, in Miami, Florida and has evolved from an underground music festival to an annual, international mega-music event attracting hundreds of thousands of patrons. Hosted at the gigantic Bayfront Park, in downtown Miami, Ultra Music Festival brings music lovers and international acts from all around the world. Ultra Music Festival has recently been popping up in other countries around the world such as Sao Paulo, Ibiza, Seoul, Bogota, Tokyo and Buenos Aires, and just goes to prove how much the event have grown over the years.
Summerfest, Milwaukee, Wisconsin
July George Thorogood, Blackhearts, Ziggy Marley, Joan Jett and many more


Summerfest, also known as "The Big Gig" is the largest music festival held in the US. Summerfest was originated in 1968 and is held in Milwaukee, Wisconsin at the Henry Meir Festival Park. Since being created, Summerfest has grown into a very recognized event. Summerfest goes on for a full week and features as much as 700 performers, from international stars to local bands who have just begun putting out music.Unlike the majority of the major music festivals, tickets for Summerfest is fairly affordable, ranging between 15 and 20 dollars. The event recently hosted 850,000 patrons.
Electric Daisy
Paul Oakenfold, Paul Van Dyk, Benny Benassi, Subfocus, David Guetta and more


Get ready to dance like you never danced before to high-tempo rave tracks and thumping beats. The first ever Electric Daisy was held in 1997 at the Shrine Expo Hall, Los Angeles. An event record of over 700,000 patrons in 2014, made Electric Daisy one of the most populous music festival held outside of Europe.
This event evolved from an underground music festival into a mega international event, attracting people from all over the world. The Electric Daisy Festival has bee held in a lot of diverse cities and venues around the world, between the UK and the United States, all offering a slightly different but still electric experience.
Donauinselfest – Vienna, Austria
June 26 - 28

Donauinselfest is simply the largest music festival on the planet, period. Its name translates to the "Danube River Festival" and it is held in Vienna, Austria. Donauinselfest is held on and island in the middle of Danube River and you have to take a ferry ride to reach the gates. The Danube River Festival has a lot of things going on for it. A river surrounds the festival, so if it gets too hot, you could always cool off in the river, clothed or unclothed. The last event hosted over 3,000, 000 patrons last time around, and is bound to increase in size for the next event.
GLASTONBURY, England
June 22-26 Adele, Coldplay, ZZ Top, Elie Goulding Cyndi Lauper and more


Take a stroll back into time at Somerests Glastonbury festival. The five-day music festival was first held in 1970 and still stay true to its counterculture and hippie roots. Glastonbury music festival is a heavyweight champion in the music festival world, it features major international acts, and the audience is always filled with celebs and models. Patrons can also enjoy other forms of entertainment such as cabaret shows, circuses, and theaters in other performance areas. The music lineup ranges from reggae to pop, dubstep, techno, metallic and even folk music. Glastonbury continues to grow each year, and you should consider visiting the grand event if you are looking for a swell time in the UK. Bring your rain boots.
Coachella, California
April 15-17 , 22- 24 Calvin Harris, Major Lazor, Sia, Ellie Goulding and more


The peak of summer music festival, the draw of Coachella music festival is much about the style and fashion scene as it is about music. Each year, thousands of cut-off denim wearing music lovers flock the Indio desert to indulge in the south-Cali sun, jam to some tunes elbow to elbow with celebrities and event bloggers alike. The event is held in the desert making Coachella a camping also event, unlike other Urban music festivals, though sometimes it is difficult to find shade from the sun. The event also has fun daytime pool parties to beat the heat and remember to stock sunblock, waters, and hats. The event goes on for two weekends, each has 48 hours of non-stop liquor drinking, and dancing, after the event you head to the Joshua Tree National Park to recalibrate.
EXIT , Serbia
July 7- 10


If you are looking for a conscious music festival, look no further than EXIT. Once a civil protest of students fighting for democracy and peace, EXIT has quickly become one of the biggest mainstream music festivals in Europe. Visitors from all around the world come to see their favorite acts, while still learning about politics and social advocacy. EXIT brings big artists from various genres, while still keeping its basic, socio-political significance and one of the most cost friendly music festivals around the world. The main stage is stationed at the heart of the festival, and party-goers can try out any of the six other themed stages to catch a concert. Music ranges from pop, metallic and punk bands.
Sonar, Barcelona, Spain
June 16-18 Flume, Santigold, James Blake, New Order, A Track and more


One of Europe's most colorful cities, Barcelona, is also home to one of the world's most vibrant music festivals. The city of Barcelona has always been recognized for its music, and in 1994 when Sonar Music Festival was first staged, the city transformed into a hub for EDM revolution in Europe. Sonar also helped to transform Barcelona in one of the most cosmopolitan cities in the world, as every year fans crowd the city's Fira Gran Via area to watch their favorite DJs spin hot tunes. Sonar features the biggest of musicians in the industry and there is no doubt the event is sold out each and every year. You can come for the music and everything else that Barcelona has to offer such as sports, food and much more.
Lollapalooza, Chicago, USA
July 28-31

Only a few carry the same star power and recognition as lollapalooza. Started in 1991 by Jane's Addiction frontman and Perry Ferrell at the Chicago Grant Park, where it is still held up to today. Lollapalooza is scenically flanked by the elevated downtown skyline and the Michigan Lake providing a very breathtaking atmosphere. The party goes on for 10 straight hours with eight themed stages across the 300-acre property you can choose which event you prefer to see or see them all, there is also a kidzpallooza for aspiring hippies. After the music festival, the crowd disperses into dozens of Chicago clubs for afterparties.
Roskilde Festival, Denmark
June 25-July 2


Roskilde was started by two Danish high schoolers and has transformed from a hippie convention to an established music festival. The event goes on for four days with fans worldwide and features more than 3000 performers. The lineup features performances from international and local artists, and performances can be watched from inside large tents. Profits from the concert go to support the small, local musical project and there is also free bottled water available making the event one of the most cost-friendly music festival around town.
New Orleans Jazz and Heritage Festival



Jazz Fest has strayed a bit from its description over the last 45 years. The New Orleans Jazz and Heritage Festival is one of the oldest music festivals in the world and one of the most popular. The event has two main stages that attract international acts, and eight other stages that have homegrown genres like, blues, gospel brass bands and of course jazz. It is arguably the most religious lineups you will find anywhere in the world. There are also two stages dedicated to food only, food is one of the main attractions at the event.
Leave A Reply
Your email address will not be published. Required fields are marked *