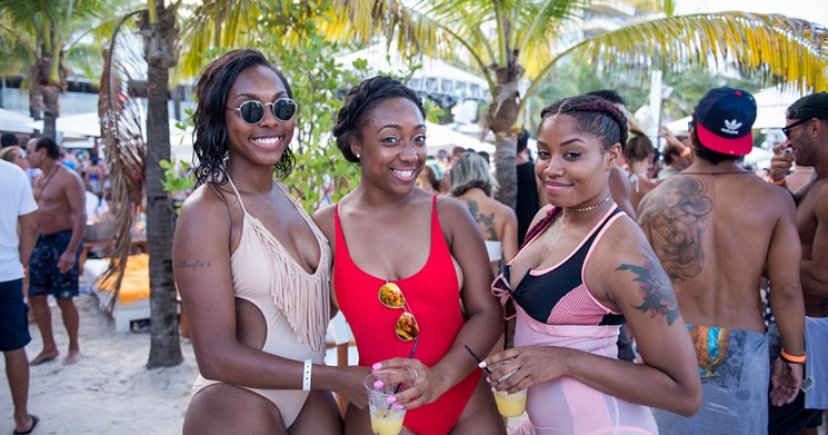 Gone are the days of Versace parties and Madonna sightings, but the party scene in Miami still live on. The players and institutions come and go. VIP clubs line the street, then disappeared, and welcome new trendy nightlife spots. Styles change, music evolves, but there is no stopping of the energy and entertainment on South Beach.
Whether you're looking for hip-hop, rock, latin or EDM vibes. Whether it's a night out with the boys or living it up with the high-rollers; or a casual girls night out setting, South Beach is the right place to be.
Here is a look at some of the best nightlife spots on South Beach.


LIV

As soon as you step inside LIV its like you have just stepped inside another dimension where reality is one long music video. A night inside this massive nightclub on South Beach is a very luxurious night to remember. The funky ceiling above, moving and alternating colours, is no figment of your imagination, it is real. The only thing one might complain about is the pricey bottles and cocktails, but its worth every last penny.


Story

Operated and owned by the same amazing owners of the opulent LIV, this super nightclub on Collin's Ave. is the bottle-service alternative. The dance floor is larger than the one at LIV which is mostly over-crowded, but it has the same dedication to style and exclusivity. The music is a bit different at Story, giving underground artiste the chance to shine in a more sophisticated and sexier environment.


Basement

Building the perfect nightclub to match South Beach's diversity, chicness, never boring and colourful features is a tall order; Basement seems to have found a way to incorporate all those qualities in one awesome nightclub. Basement features an ice skating rink technicolour bowling lanes and some great music programme, Basement is the ideal nightclub for Miami Beach.


Trade

Located on Washington Ave. walk through the velvet ropes up the stairs to a second-floor party haven. Inside Trade is has minimal lighting and decor, just a few flashing lights to set the mood. Trade is all about the music experience, serving up techno and international house music on a regular basis. The best night to visit Trade is on Fridays


Nikki Beach

Party to the sounds of International dance DJs, in a bikini under the sun while drinking cocktails, on one of the best beaches in the world at one of Miami's best clubs, Nikki Beach. Without flying to Europe you won't find anything else like Nikki Beach in Miami. Nikki Beach is one of those experiences that you will never forget the experience — as long as you can remember it the next morning.

Do Not Sit On The Furniture

Not as big as the other clubs on this list but gorgeous, Do Not Sit(operated and owned by producer and Dj Behrouz) can really get poppin when there's a good DJ on set. Some nights can be slower bout the nightclub has gained a strong reputation among Miami's dance music fans, who you can see staggering out of the club well past sunrise.

Twist

Primarily a gay club but everyone is still welcomed by the 2-floor, multi-room beachfront dance haven. Step right in from off SoBe's buzzing Washington Ave. and you're met by a straight bar playing post-punk. Keep exploring for a drink in the backyard bar or check out the other room where you will be greeted by thong-wearing go-go dudes. Upstairs you'll find three additional rooms, each boasting large screens where diva queen, music videos from Lady Gaga and Beyonce are being played in each room offering different music and bars.

Score

This LGBT double-decker nightclub located on Washington Avenue offers a little bit of everything, for everyone. The ground floor is where score rules, a traditionally gay club with a great sound system and an open-air backers terrace. Upstairs, house music lovers dance the night away to their favourite DJs. Drinks here average about $12, which is very affordable compared to the other clubs on Miami Beach.

Rockwell

One of the hardest clubs to get in South Beach, Rockwell has gained the reputation of being a royal pain in the ass to get into, unless you have connections at the door or accompanied by 2 supermodels. But, once you get past the bouncer, Rockwell offers all the essentials of a South Beach Club: celebrities, expensive bottle service and no shortage of sensory overload. It's more of a Hip Hop rather than an EDM club and for that reason its the stopping growing of celebs like P Diddy, Khaled and Rick Ross.

Purdy Lounge

Sunday doesn't have to be the dullest day of the week when you can head to Purdy Lounge. Head to the beachside club for the last pick of the weekend at Made You Look Sundays. The 17-year old bar is newly renovated. All new decor and cocktail menu means more amazing things in store. Feel free to be yourself at Purdy Lounge.
Leave A Reply
Your email address will not be published. Required fields are marked *