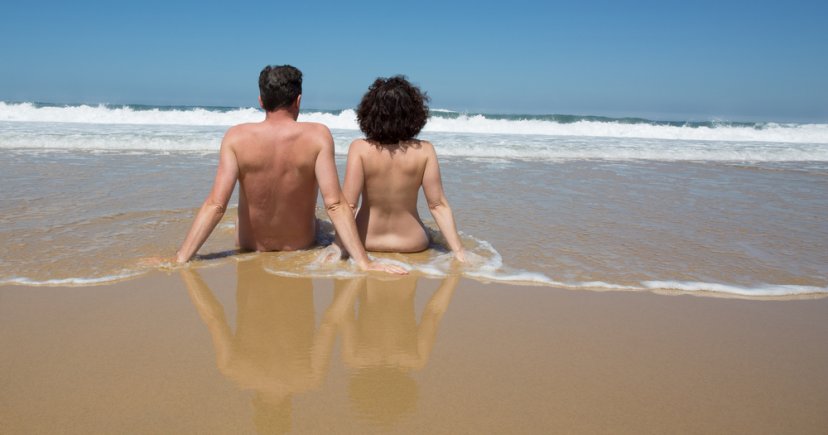 Nude Beaches have always been a thing, but it wasn't until the mid-21st century that nude and topless beaches began to reappear along the Mediterranean and the Atlantic coast of France. While some do it to get back in touch with nature, others simply desire the perfect tan or just want to satisfy the craving for total freedom. Whatever the reason, there's never been a better time to throw caution and your swimsuit to the wind and discover some of the world's best nude beaches.
#10 Little Beach, Maui, United States 
It is kind of ironic how Little Beach is a favourite nude beach among full-tan enthusiasts: Nude sunbathing is technically illegal there. Fortunately, the local authorities ignore the law. Making Little Beach and the nudity there a dirty little not to secret, secret.
#9 Uretiti Beach, Northland, New Zealand 
If the name alone doesn't hook you, then the fact that Uretiti Beach is very popular and full of nude people might just do the trick. Still, while naturalism is welcomed this isn't the beach for exhibitionists looking to get into some shenanigans. The beach is gorgeous and clean making it a perfect spot to vacation.
#8 Samurai Beach, Australia 
Any combination of Samurai, swordsmanship and nudity might sound dangerous, but there's nothing out of the ordinary about Samurai Beach. Well, aside from the nudity. It is, however, very completion-oriented, as it plays host to the Nude Olympics each November. Got to hand it to those Aussies for being creative and mixing athletics and nudity.
#7 Hedonism II, Negril, Jamaica
Part of the Seven Mile Beach, this coral sand beach has been recognised as the Caribbean's best. While the resort is clothing optional and has a fully nude side, the actual Seven Mile Beach is recognised as officially topless. Hedonism II is a great atmosphere for partying, couples getaways or relaxation, complete nudity and freedom included.
#6 Bellevue Beach, Copenhagen, Denmark 
Without the phrase "hot springs" to add warmth, the words "Scandinavia" and "nude" seem like a cruel joke. But in the summer months, locals flood into Bellevue, just 15 minutes from central Copenhagen to strip down and enjoy the breeze. Fit youth's blast music and soak up the rays along the 700-meter beach, which features lifeguards and showers.
#5 Playa El Agua, Margarita Island, Venezuela 
Playa El Agua is the biggest, most famous beach on the Caribbean's stunning Margarita Island. Adored by tourists and locals alike, the beach is lined with palm trees that allow you to escape the sun when you don't want to catch any more rays. During the high season, Playa El Agua welcomes you to its massive beach parties, and we all know the freaks come out to play at night.
#4 Le Centro Helio Marin, Montalivet, France 
Le Centro Helio Marin is considered the birthplace of the nudist movement. Established in 1950, the park has practically perfected the family friendly naturist experience over the last 60 years. In addition to letting it loose on the beach, you can visit camp sites; go shopping all while completely naked. Try buying food at a grocery store while wearing nothing its quite unlike anything else.
#3 Wreck Beach, Vancouver, BC, Canada 
Canada's first and North America's largest clothing-optional beach, Wreck Beach attracts local and international visitors keen to bare it all. Sunbathers can easily spread out along the 7.8 kilometres of coastline, as well as join a monthly event, enjoy the live music, get a massage on Vendor's Row, play beach volleyball or even get their bodies painted. The beach is also a wildlife and nesting area for bald eagles, but still, retains its carnival-like atmosphere thanks to the University of British Columbia and the beach's popularity among their students.
#2 Costa Natura, Estepona, Spain
One of Spain's premier naked holiday spots, one look at the gorgeous grey-sand beach of Arroyo Vaquero and you'll understand why. You can take a break from enjoying the view of women in all their glory to gaze at the palm trees or enjoy one of the resorts many Jacuzzis. If you look out into the water, you can see Morocco.
#1 Red Beach, Crete, Greece
Red Beach is known for its cobalt-blue waters, ancient ruins, sun-bleached cottages and its red sandstone cliffs. Since the late 1960's Red Beach has been a naturist favourite due to its rustic charm and tolerance for nudity. When visiting Red Beach expect to find many hidden treasures like ancient caves, as well as sunken bits of history from off-shore shipwrecks that occasional wash ashore.
Leave A Reply
Your email address will not be published. Required fields are marked *