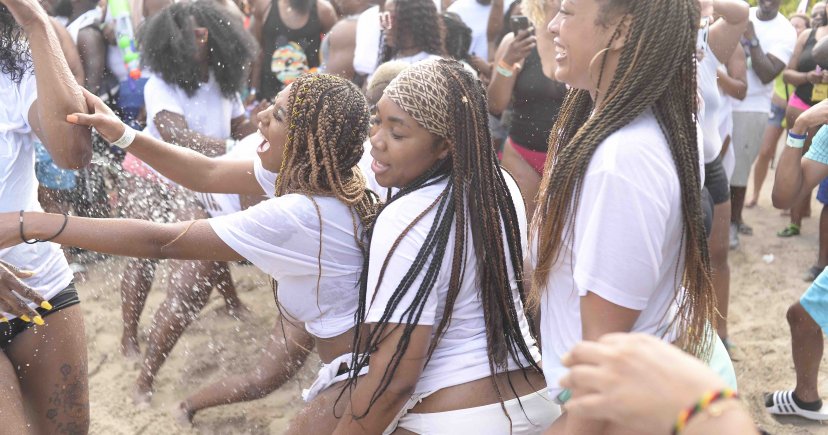 The beautiful white sand beaches of Negril Jamaica was once again home to one of the most exciting events happening anywhere in the world over the American Memorial Day Weekend Holiday, Mocha Fest. It was the 5th anniversary hosting for what is dubbed "The Wildest Urban Festival On Earth, " and what a turnout and celebration it was. As usual, the majority of Mocha Fest patriots were African Americans. However, this past event saw a much broader variety of nationalities flying down to Jamaica to enjoy this amazing festival. Canadians, British, Caribbean nationals, even people from as far as Ghana, turned up to "Turn Up" for 6 days and 5 nights in Negril. Mocha Fest is definitely one of those events that you would have to experience for yourself to understand how different and incredible the atmosphere is. However, I will try my best to use words and images to recreate some of the most memorable moments of the 5-day festival.
Day 1 - People Did Not Waste Any time Getting The Party Started
Even though many people showed up on Wednesday, Mocha Fest 2018 did not officially start until Thursday, May 24th with "Mocha Mingles" the official welcome party and ticket redemption. The beautiful cliffside venue and all white theme created a spectacular setting, as over a thousand people showed up at the first party to collect their gift bags, their all-access wristbands, but most importantly, to meet and mingle with all the people they will be partying with over the next 4 days. The Red Bull truck entertained people while they waited in line to purchase their party pass or collect their wristbands, while inside the party, Mocha Fest resident DJ, DJ CK1 got the vibe going early as people showed up ready to party.
Click here to view early booking rates and details about Mocha Fest 2019 In Negril Jamaica.
Day 2 - A Jam-packed Party Day
Daytime
The party started as early as 10:00 am on the Friday of Mocha Fest 2018. The daytime party was "Fantasy Island," a "Bare As You Dare" beach party that started at 11:00 am, but before that party got started, there was a Catamaran Cruise 2 hour Pre-Party that started at 10:00 am and took those that wanted to be on the Cruise from a beach location near their resort along the Negril Coastline to the private beach venue where the party was being hosted. The 200 people on the Pre-Party Cruise met up with everyone else already partying on land and after that, it was a Mash-up of Hip Hop, Soca and Dancehall pandemonium. Describing all the events of that party would be sharing way too much, but the pictures below will give you some idea.


Nighttime


The most anticipated event of Mocha Fest 2018 happened on Friday Night. "Mocha Diamonds", the feature event, was packed with heavyweight local and international talent, lined up to entertain what ended up being over 3000 people at Wavz Beach in Negril. Female DJ sensation from California Kyra Chaos, local radio DJ, DJ Sanjay, Jamaican social media and TV celebrity, the Curvy Diva Yanique, the prince of New York, DJ Self all represented well to a fully engaged crowd, all before the queen of Stage and popular Dancehall Artist "Spice" to the stage and gave us all an entertaining hour of raunchy dancehall lyrics and her usual onstage antics that included several members of the audience. From the performances to the elaborate stage decor and VIP Sky boxes, everything at Mocha Diamonds was Diamond standard.


Day 3 - New Orleans In Jamaica
Friday was pretty hectic and we all nighted recovery time before getting back to the parties on Saturday. "Mocha Gras" the beach masquerade and New Orleans style Mardi Gras party was the theme for the afternoon. For every party, the Mocha Fest event coordinators went the extra mile to ensure the setting matched the theme. From the food to the colors, and the amazing outfits and costumes of the Patriots, everything looked like Mardi Gras. There was even a 10 minute Cameo appearance from a local marching band that had some of the Patriots dancing and drumming right along with them. Mocha Gras went from 4:00 pm to 10:00 pm that evening, and it was definitely another Mocha Fest party that did

Day 4 - Things Really Got "Whet"
After 4 parties over 3 days, you would think people would start to get tired by Day 4. However, if you ask many, "Mocha Whet" the day and night water party that happened on the Sunday of Mocha Fest 2018, was the most "Fun" party of the entire event. That is saying a lot considering every single party so far was pretty "LIT." However "WHET" took things to another level. There were close to 2000 people at this event, and I am not sure if there was something extra special about in the alcohol, or if it was the carnival-like atmosphere created by the Soca Music played by DJ Kurt Riley and DJ Nicco, but there was something that had everyone at this party in mood that was out of this world. Everything happened at this party. It started off with an Epic wet t-shirt contest, a 100ft waterslide, a foam pit that hardly got going, but ended up being a 7 hour long Soca/ Hip-Hop/Dancehall beach Fete that words cannot describe.
Day 5 - The Final Leg
Daytime

By now we were all running on reserve. Completely partied out and just going through the motions because everyone was afraid if they didn't show up at the next event, they would miss something epic. During the day on Monday, it was a chilled event. We went back to the private beach venue where the first party was held, but this time it was to enjoy a Memorial Day BBQ and some fun beach games. It was exactly what everyone needed after 5 back to back parties over 4 days. The beach games were funny and entertaining, and everybody enjoyed a much needed chilled day and amazing food and company.
Nighttime
For the final party of Mocha Fest 2018, we took things to the Jungle Night Club, one of the most popular nighttime spots in Negril. This party was "Mocha Tease" a lingerie party, with a male and female exotic review as the pre-party. Those that showed up had an amazing time being entertained by the male and female dancers, before getting in their last few hours of dancing in Jamaica until the next event in 2019.

Our 7 Super parties were not the only parties that happened during Mocha Fest 2018. Those that stayed at one of our 3 host resorts, took part in their own after parties or pre-parties in between the scheduled party hours. Those that were just party pass holders, enjoyed many amazing experiences in and around Negril, such as Sunsets at Rick's Cafe, watersports activities such as snorkelling and scuba diving. Needless to say, we are all looking forward to what 2019 will bring.
For those that cannot wait until 2019 to experience Mocha Fest, the event will be in Cancun Mexico for the first time in October of this year at the newly renovated Temptation Resort. Mocha Fest 2019 in Negril Jamaica is set for May 22nd to May 28th and we are looking forward to an even more epic experience.
Leave A Reply
Your email address will not be published. Required fields are marked *