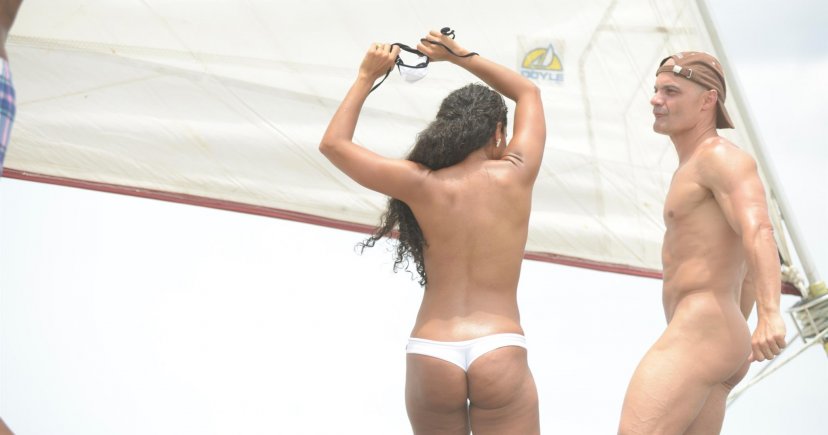 How about cruising the Caribbean for 7 days with a massive Cruise Ship filled with thousands of naked people, looking to party and pretty much down for whatever? If this fantasy intrigues you, well I have good news, this is not just a fantasy, it as a huge reality. Bliss Cruises, as it is called, is an annual swingers festival hosted on some of the most popular and luxurious Cruise Ships in the world. Swinger couples from all over the world travel to a port somewhere in the USA, to be onboard the world's largest overwater naked party. VACATIONPARTIES.COM had the honor of being invited to be a guest on the last Bliss Cruise that happened this past November. Here is what we can tell you about our experience on this Cruise.


The People

There were about 1500 people on board the Royal Caribbean Cruise ship that was used for the cruise we were invited to. Bliss cruises are only open to couples. Single females can be on the cruise if they are invited by a couple. With that many people, you are going to get people of all ages, shapes, sizes, and ethnicity, however, I found that the majority of the people on the cruise were your average middle-aged couple, somewhere between the ages of 45 and 55. The cruise Port was in Ft. Lauderdale so the majority of the people were Americans, but we met a lot of people from different countries, even as far as Australia that flew all that way for the sole purpose of being on this Cruise. 70% of the people were hardcore swingers looking to hook up with other couples. The rest were made up of exhibitionists, voyeurs, nudist and a few curious couples possibly searching for something to spice up their sex life.


What Happens On A Bliss Cruise

Apart from the food, the Casino's and the boutiques, a Bliss Cruise is definitely nothing compared to your regular Cruise experience. During the day, everyone hung out Naked by the pool area, enjoying social entertainment with other naked couples, music and variety of adult-themed games. There was also a long list of classes and seminars that you could attend. These classes covered topics such as, "Introduction To Swinging," Tantra, BDSM, and a long list of sex and open relationship topics. The classes were mostly full, even though it was an extra cost to get in. The mid-afternoon entertainment always includes a combination of live music and a DJ. People partied, kissed and caressed each other, but no… no one was fucking by the pool. Sorry to disappoint all the exhibitionists getting excited from reading this blog, but they do not allow you to have sex in the Public areas on a Bliss Cruise. However, there are other opportunities, to put on a show in front of a lot of people. At nights, there are a few dance floors with a DJ playing for your Dancing pleasure. However, the main event each night is the giant Orgy Room or what swinger couples call "Playroom" where the real action takes place. The hotel's Spa is filled with hundreds of mattresses and converted into a massive space that had semi-private rooms for those that don't want to be so much out in the open, and massive open orgy beds for those that wanted to be in the naked pile-up. I must admit that the setting in the playroom was actually very sexy. The lighting was just right so you did not feel like you were seeing more of people than you needed to see, and it was very clean and spacious so your level of participation can be as little or as much as you want it to be.


Rating The Overall Experience

I applaud the Bliss Cruise promoters and event coordinators for doing an excellent job with executing something like this. The logistics that went into converting a normal Cruise Ship into a venue to host something like this, must have been a nightmare. There were not noticeable glitches and everything ran pretty smoothly, except for the one day when they tried to host a foam party but the wind kept blowing the foam out of the pool. So that didn't happen. The entertainment was good in patches. Honestly, the pool area was way too small for that many people, so if you did not wake up 5:00 am in the morning to hold a chair or two, then you would get stuck sitting way at the back in a corner, hardly seeing or hearing any of the action happening by the pool. Wish we had more an better ports. 3 Ports on a 7 day Cruise was not a lot, especially when one of those Ports was a private beach on an island owned by the Cruise line with nothing to do but lay on the beach and pay $100 for a 15 second Zipline over the water. I must mention that the main reason there were only 3 ports is due to the damage Hurricane Maria did to Puerto Rico and a many of the other ports that were available for this Cruise, so I am sure that is something that will get rectified if nature allows it. Even though most of the couples on the Cruise were in closer to 50, there were definitely enough young couples on the Cruise for younger couples to have a good time as well. I believe the Bliss Cruise experience is definitely a very different experience from what you would get on a Swingers Resort party or lifestyle convention. It's definitely a worthy experience of lifestyle couples looking for options to vacation and live out their fantasies.
Leave A Reply
Your email address will not be published. Required fields are marked *