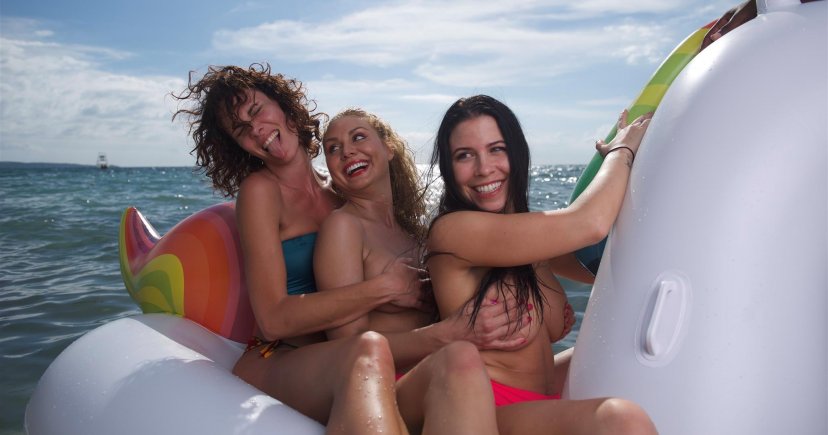 You are here reading this article for one of two reasons. Either you are just curious about Hedonism II and what really happens at that place, or you are considering booking a Hedonism vacation and you are looking for answers to some of your many questions in this article. Whatever your reason is, I hope that after you finish reading this article, you have a way better understanding of what a vacation at Hedonism II is all about. This notorious clothing optional resort located in Negril, Jamaica has a 40-year reputation for creating life-changing experiences and most of the people that go there end up being addicted and keep coming back almost every year. So let's find out if you are ready to experience exactly what Hedonism II is all about.
The Truth About Hedonism II
When it comes to rumours and mixed reviews, Hedonism II is top of the list among all resorts and experiences in the world. So for a person that has never been, it makes finding the truth about this notorious resort, almost impossible. The truth is, everything you have heard about Hedonism is true. It is the one place in the world where people can go and do or be whatever it is they want and no one cares or judges. On any given week at Hedonism II, the group of people there may range from a couple looking to have as many orgies as possible in a single week, to a group of single females just there to party and enjoy the nightly shows. There are swingers, dominatrix, party seekers, nudists and everything in between. Everyone's experience of Hedonism is different and you can pretty much get anything you want out of a week at this resort. This also includes laying on the quiet side of the beach doing absolutely nothing all day.



Make Sure You Are Ready
A vacation at Hedonism II is for anybody, but it's not for everybody. As cliche as that statement sounds, it couldn't be any closer to the truth. It takes a certain type of mindset to survive and enjoy the Hedonism experience. When you are on vacation at Hedo, you have to know that it's not just about you, it's also about everyone else. Every person there has the right to experience the resort in whatever way they are comfortable with, as long as it's not harmful to anyone else. You have to respect everyone's boundaries and desires, and whether you agree or disagree with it, you have to co-exist. The same way everyone there should and will respect your boundaries. Speaking of boundaries, if you are a couple, it is very important that you have boundaries of your own. There will be a lot of situations and temptations. You have to know that not because something works for another couple, that doesn't necessarily mean it will work for you, right now. Before you click that "Buy Button" make sure you are fully ready for a Hedonism vacation.
Manage Your Expectations
It is very easy to carried away with your expectations about what will or should happen while vacationing at Hedonism II. Let's face the facts and admit that the reason you are going is mainly due to what you have heard about this resort and you are excited at the idea of personally enjoying some of these experiences. However, every person is different and what may have worked for someone else, may not work for you and or your partner. It is best to go with an open-mind, but not put too much pressure on yourselves to do anything in particular. The atmosphere at Hedonism will dictate a lot of your experience. I suggest going with the flow and allow things to happen organically. We advise couples to always be in communication with each other and don't get too carried away in the moment and forget about your partner.
The Right Time To Go
Every week is a good week at Hedo 2, but that does not mean it is good for everybody. Over 70% of the people that goes to Hedonism II go with a group, hosted by lifestyle travel organizers, promoters and event coordinators. Your experience at the hotel will definitely be impacted significantly by the group that is at the resort at the time of your visit. Go with the right group and you will have the time of your life. End up with the wrong crowd for your taste and you may never go back. Before you book your Hedo trip, I suggest going to the hotel's event calendar and see if there are any groups or events happening at the resort during those dates. Once you have that information, do some research on social media by joining various travel groups that talk about Hedonism, or find an online forum where you can ask questions about who and what those groups are all about. Some of these groups have websites with pictures and videos of past trips, and those can be very useful in helping you determine what time of experience you can expect by being at Hedonism during the same time as this group.
Go To Have Fun
The only expectation you should have when preparing for you Hedonism vacation is to have fun. It's not about the food, the rooms, the weather or the beach even as beautiful as it is, Hedonism II is about unique and life-changing experiences. Once you get there, immerse yourself in the atmosphere and completely let go of inhibitions. Meet people, participate in the games, try new things and try your very best to forget about everything you knew reality to be before you stepped into that lobby. One of two things will happen after you have completed your vacation at Hedonism II. You will either be completely traumatized by the experience and never want to speak or see that resort again, or you will have the most incredible experience of your life and you will never want to vacation anywhere else but Hedonism for the rest of your life. Your attitude and mindset will dictate which one of those two outcomes you end up having.
Leave A Reply
Your email address will not be published. Required fields are marked *