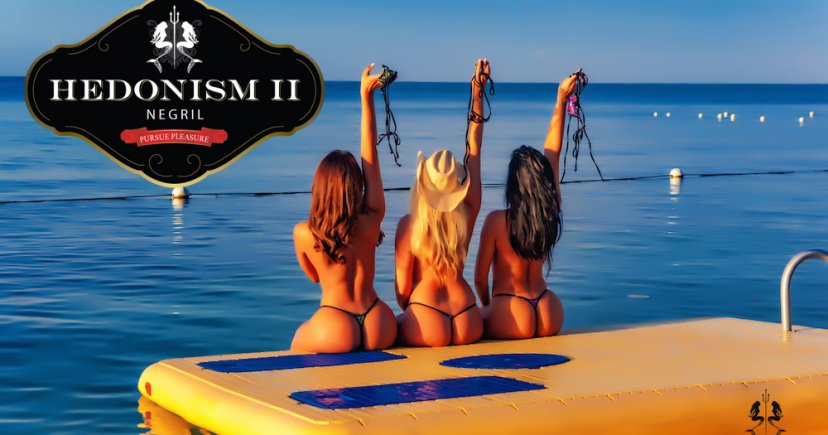 Hedonism II is one of the most infamous resorts in the world. The stories have been written about and televised internationally, and this Clothing Optional Party Resort in Negril Jamaica has earned its reputation as one of the Naughtiest vacation experiences money can buy. Regardless of whether you have been to Hedonism II or not, you probably know a lot about the resort based on the hundreds of rumours. However, I can bet many people will not know these 5 facts about one of the World's most notorious hotels. 

1. It Was To Become A Club Med

Many people may not know this, but when the idea of what we know today as Hedonism was born, it was originally supposed to become a part of the Club Med resort chain. Somewhere along the line, that agreement fell through, and the resort ended opening under a different name, Negril Beach Village around 1975, but maintaining a similar concept as the Club Med Resorts.

2. It Was First Owned By The Jamaican Government

Yes, the naughtiest hotel in the world was established with its clothing optional concept by the Jamaican Government. When the agreement did not work out between the government and Club Med, former all inclusive giants, Super Clubs were called in by the Jamaican Government to Manage what was then Negril Beach Village. Under the marketing and management of Super Clubs, Negril Beach Village saw great success and formed its own identity as the Caribbean's number one party resort for singles looking for some adult debauchery while on vacation.

3. There Was Never A Hedonism One

One of the most commonly asked questions about Hedonism is, where is Hedonism One. There was never a Hedonism One. After a few years of Super Clubs running Hedonism, the government of Jamaica decided to take back management of the resort. During that time the resort fell on some hard times and the government had to once again go back to Super Clubs to assist in bringing Negril Beach Village to life. The slogan for Negril Beach Village was, "Come and experience Hedonism." So when Superclubs took back management of the resort, they rebranded the hotel as Hedonism II in the mid 80's, the "Two" representing "The Second Version Of…" or the "All New Hedonism."

4. It Has The Highest Rate Of Hotel Repeat Guests In The Caribbean

For a few decades, Hedonism II was the only hotel in the world that offered the type of experience you get at Hedonism. Business was so good that in the Mid 90's they opened a second resort Hedonism III, which closed after about 10 years. However, many guests fell in love with the Hedonism brand and today Hedonism II has one of the highest guest repeat rates of any hotel in the World. There are a few guests that have been to the hotel over 100 times, and several others nearing that number. There is something about the place that keeps you coming back year after year once you have experienced it.

5. Technically It's Not A Swingers Resort

Hedonism II is widely regarded as a resort for Swingers. Technically, it's not. It is hard to argue that given the fact that majority of the guests that frequent the resort are swinger couples. However, Hedonism II did not start out as a Swinger's resort. It was primarily a singles party resort, with a lot of daytime activities like Rock Climbing, trampoline, Trapeze and other amenities geared towards active young adults. Many people do not even know that Hedonism II has 6 tennis courts, 2 Squash courts, 2 Basketball and 1 Badminton court. Many singles still visit Hedonism II on specific weeks, as there are several non-swinger events hosted at the resort annually. Hedonism II is also a place where people just looking to be naked and party, goes on vacation. There are always swinger couples at Hedonism II and a significant number of weeks throughout the year; the hotel is taken over by large swinger groups, but Hedonism II can be a hotel for any type of adventurous vacationer, it all depends on what time of the year you are there.
Leave A Reply
Your email address will not be published. Required fields are marked *