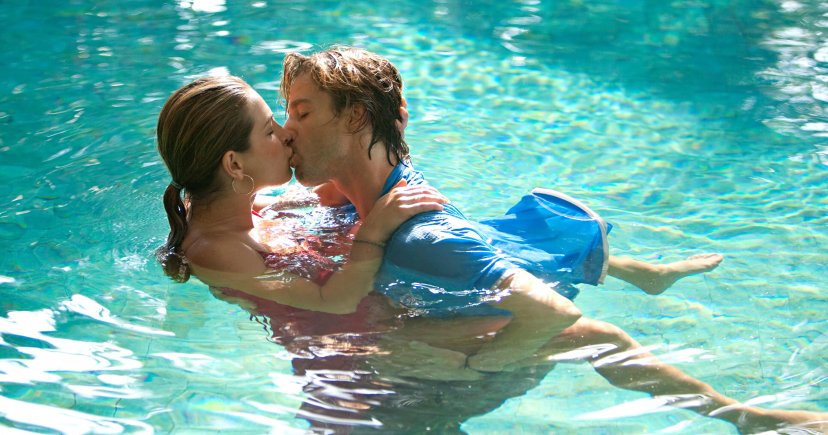 Some people travel for relaxation, some to spend time with family, and some of us travel for sex and casual encounters. Yes! In case you did not know, or you are too conservative to accept that fact, sex is a top tourist attraction and many people book vacations mainly to Hook-up. Hooking up on vacation though can be way more fun and easier if you are travelling with a friend. However, if you are sharing a room with your friend, there may be some logistics to work out when that time comes as someone will have to be inconvenienced. Or Not. Here are 10 ways you can still have sex while sharing a hotel room with a friend.
1. Do It Outside
Who needs a room when you are in a beautiful tropical location where the ocean water is warm, the gardens a lovely and the sand is soft. Sounds like the perfect setting for outdoor sex to me. Outdoor sex may only be possible late at night when no one is watching as there are only 1 or 2 resorts in the world where PDA is accepted. However, if you can wait until it's dark, then mother nature is all yours.
2. Do It In The Day Time
There is a very likely chance that your hotel room will be empty during the daytime. When the sun is nice and warm, and there is a beautiful beach to enjoy and unlimited cocktails, who wants to be in the room? Only the person trying to get laid and needs the privacy behind the walls and a comfortable bed. That makes having sex in the daytime ideal as your roommate will most likely be occupied by other vacation things like sunbathing, getting a massage or socialising in the pool. You can also use the old trick of leaving a tie on the door just in case your friend decides to make an unexpected visit to the room.
3. Use The Bathroom
If outside is not an option, and the opportunity presents itself at a time when your friend may be in the room taking an afternoon nap or out for the night, then there is the option of using the bathroom. It helps to have a hotel room with a decent size shower or bathtub to make things a little more comfortable. If you plan on using the sink, make sure it's strong enough that it won't break otherwise you could end up causing a plumbing disaster and have some damage charges added to your credit card.
4. Have A Threesome
Maybe you and your friend are the adventurous types. Even better. Now sex in the room does not have to be an inconvenience for anyone. Two is a company; three is a party. Let your friend in on the action, and have a threesome if all sides are down. If you have never had a threesome before, this could be a great opportunity for a first time experience.
5. Find Your Friend A Date
If your friend is occupied by a possible hook-up of their own, then they won't be in any rush to get back to the room. By helping your friend find someone to occupy him or her for the night, you give yourself the golden opportunity of getting the room for a long time to yourself. This way, if the sex is exquisite, you do not need to rush. You can even go back for seconds and thirds.
6. Do It Quietly
In the event, you have no choice but to sneak one in while your friend is in the room sleeping, then you may have to go back to those teenage years where you had to do it very quietly, so mom and dad do not hear. Being naughty an sneaking can be a huge turn on and may even help to heighten the experience. Use a pillow or a gag ball if that's your thing.
7. Book A Suite
Planning ahead of time is also a wise idea if you have intentions of getting laid while on vacation. It may cost a little bit more money, but booking a large suite may still be cheaper than booking two rooms. You get the added perks that come with the upgraded room, and you have enough space for maybe two full beds and little bit more privacy. Some suites even come with a separate living room or patio area which privacy is always available.
8. Create A Schedule
Working together is always a great plan. If both you and your friend plan on getting lots of action on vacation, then maybe a schedule will work. This way each person have their own hour or two each day when the room is available to them to have privacy and do whatever they please. Schedules are great when both parties are on the same page.
9. Use The Other Person's Room
If your room is not available because it is being occupied in one way or another by your roommate, then there is always the option of the other person's room. This is if that person is without a roommate or the roommate is not using the room at the time. If those two scenarios do not create another obstacle, then you have yourself a room.
10. Ask Your Friend If He Or She Wants To Watch
Why not. Maybe you are a bit of an exhibitionist, and you did not know. This is a good time to find out. Most people are voyeurs, and unless your friend is a total prude, who says know to live porn. As long as your hot date is down, you get to have sex, and your friend gets to enjoy the action. Everybody wins!


Of course, getting laid on vacation is way easier when you book one of AVP's Special Events!
Leave A Reply
Your email address will not be published. Required fields are marked *