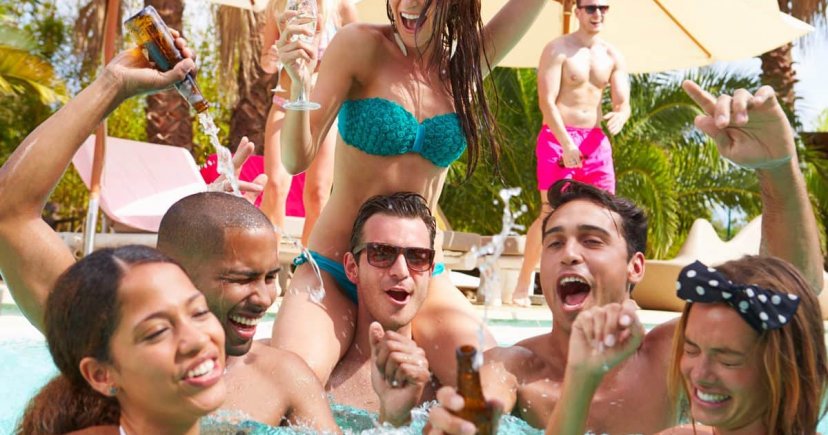 Cancun Mexico is one of the most popular travel destinations in the world among young adults, and college students, especially around March Break. Cancun is very easy and affordable to get with daily direct flights from most Major cities in North America, and it's home to hundreds of inexpensive all-inclusive hotels, massive nightclubs, beach bars and everything a single traveler would need when looking for a vacation to party and meet other singles. If you are a single traveller planning a trip to Cancun in the near future, here are 5 hotels you can try.

Temptation Resorts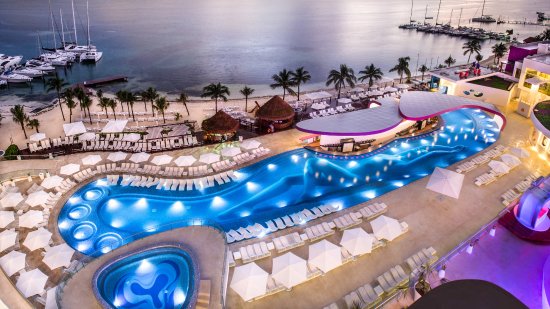 The "Playground for Grown-Ups" invites all adults to experience a sexual atmosphere throughout its property. The newly renovated Temptation Resort takes grown and sexy vacationing to a new level with its "sensual minimalism" design inspired by the human body. The new Temptation's 430 rooms and public spaces embody the design concept, with an iconic multi-colored seven-story elevation. Other features of the resort include 8 restaurants offering various cuisines from around the world, 5 bars offering non-stop premium beverage service in an energetic environment, with a rooftop "Sky Bar" to be added soon. Though the resort does not offer any nightclubs, a variation of entertaining activities heats up the night at the Playground with live performances, live music, dancing, theme nights sexy games and a whole lot more. At daytime guests get to enjoy a pulsating hosted by resident DJs and headliners by the "Sexy Pool" the resorts high-energy hotspot. From 6 pm to 2 am, "BASH" is the place to be, the resort's heartbeat will offer compelling music, staying true Temptation's sensual concept.
With a massive infinity pool featuring two swim-up pools and ocean views, five world-class restaurants, a great spa, live entertainment and amazing kid's club, Hard Rock is the ultimate all-inclusive Cancun "Megaresort". Cancun's Hotel Zone is famous for its party-oriented resorts, and Hard Rock Cancun is in the conversation for the best of the best when it comes to all day and all night partying. It is a vibrant and buzzing place, where the music is always playing, and the drinks keep coming for 24hr a day, and two swim-up bars – but for guests seeking a more laid-back type of vibe there are quieter areas for relaxing and sun therapy.

Breathless Riviera Cancun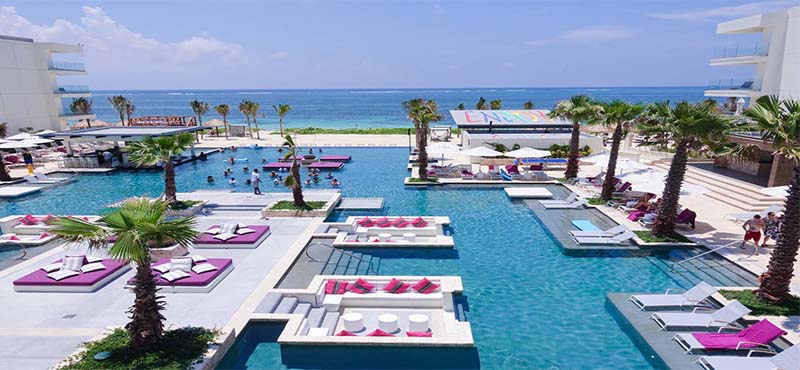 With a name like Breathless, it's only right this place at least tries to leave you blown away – which it does. Vibrant, chic and super-modern, Breathless Riviera Cancun invites guests to raise the party to unparalleled heights. Luxurious and contemporary suites are divided into three unique areas, each with its own patent character and charm. The Xhale club section for those seeking a more sophisticated level of luxury and service for those who like to mix and mingle the Energy Center is placed to be and Xcelerate for those who live for the parties. The adults-only Breathless offers all-inclusive benefits with premium beverages and trendy bars and lounges, unlimited gourmet food and a never-ending party atmosphere.
The 569-room mega-resort located in Cancun's famous Party Zone that prides itself on singles vacation is the Cancun's party capital for singles. Hotel Riu Cancun offers vacation packages for singles, which includes a singles-only vacation week in early December where singles are spoilt to unlimited food and drinks, nightly live shows and non-stop parties and activities. The Riu nightclub is the hotspot for singles to dance and mingle all night for every night during the singles vacation. The packages also include daily activities on the beach designed just for singles.
Another resort from Cancun's Party Zone – this mega-resort is a part of a two-hotel complex which is centred around entertainment and nightlife. Grand Oasis Cancun is located in the heart of The Party Zone features 1800 rooms, 14 bars and plenty of adult entertainment. If you are looking for a quiet vacation with family, you might want to look elsewhere or try to avoid the raucous party scenes and the mostly-crowded main pool area. The rooms, while spacious and clean seems like only an afterthought at a resort where so much effort is put into the entertainment aspect of the stay. Be prepared for long lines at the bars and restaurants especially during peak season
Leave A Reply
Your email address will not be published. Required fields are marked *