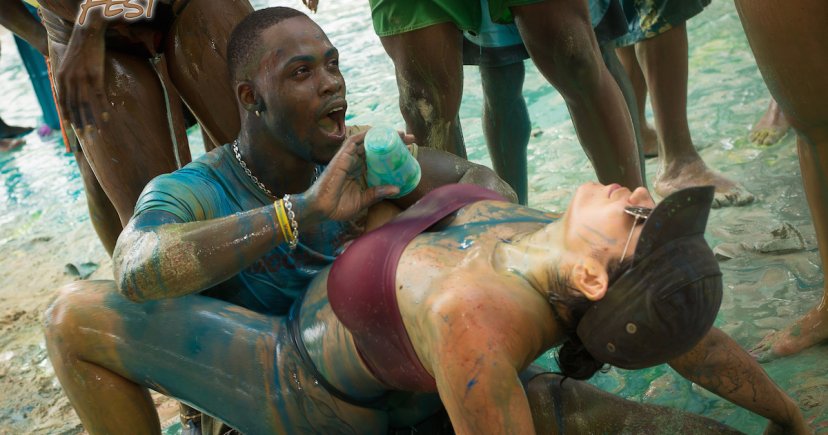 Trinidad Carnival - February 27-28
Carnivals in the Caribbean are based on the original Trini Carnival, as known by the locals, which was introduced to Trinidad in the 18th century and have since been a massive Caribbean cultural and urban event. Two days before the start of Ash Wednesday, before dawn on Carnival Monday, the rhythms of soca music signal the beginning of J'ouvert Bathed in oil, melted chocolate, paint and mud, over 50,000 revealers flood the streets dressed in costumes of imps, devils and monsters. As it gets closer to sunrise, vivid bands of people wearing skimpy costumes with beads and feathers take to the streets doing the jump up and "wining" (gyrating hips) dance to calypso and soca music.



Brit Jam - March 8-15 Jamaica
Brit Jam is action packed Musical Festival that happens during Spring Break annually in Jamaica's second city and top tourist Destination, Montego Bay. Brit Jam is the ultimate partying and musical festival event, delivering up to 12 amazing parties in the space of 6 days and 7 nights. The events include a host of themed parties including paint parties, water parties, lingerie, beach parties and much more plus, live concerts showcasing top local and international artiste. Every year, thousands of visitors from the UK and also North America fly down to Jamaica tourism capital to experience an amazing urban party event.
Spring Break as you know it will never be the same again after experiencing the Caribbean's number 1 Spring Break Event. 

Mocha Fest - May 25-30 Jamaica 
Mocha Fest is fastest growing, annual Memorial Day Weekend destination party event that caters to the Urban adult community. Mocha Fest is hosted at the number one partying resort, Hedonism II in Negril Jamaica. The Mocha Fest crew do a great job of creating a sexy environment for free-spirited and open-minded singles and couples where people can get away and have a great time for 5 days and 6 nights of non-stop partying without worrying about judgement and other stresses of the everyday. The Mocha Fest Itinerary features a host of themed parties and a few optional off-property events, like a boat cruise and a live concert featuring one of Jamaica's top Reggae/Dancehall entertainer and DJs.Mocha fest continues to deliver a high-quality event year after year delivering top notch entertainment while providing you with the opportunity to be free with like-minded people.




Cancun Jumpoff - May 24-29
The Cancun Jumpoff is one of the largest urban events that is held outside of the US and one of the best place to be every Memorial Day Weekend featuring a non-stop party adventure where patrons get to party all day and night.Cancun Jumpoff has created one of the most unique social experiences on the planet for the urban people. Having produced a great social surrounding that continues to attract people from all over the world and entertainment throughout all the days, at some of the best daytime and nightlife venues in the Caribbean.

Reggae Sumfest July 16-22  Jamaica
Tens of thousands of fans of reggae and dancehall flock to the birth nation of the music genre for a blowout urban event each July. World-class Caribbean bands come together in Jamaica's "second city" Montego Bay every year, joined with top international performers such as Sean Paul, Mary J. Blige, Nicki Minaj and Rihanna for the biggest Reggae Music festival in the world. The event also features a water party that is held at the Aquasol Theme Park and Walter Fletcher Beach. Evening live concerts are hosted at the Catherine Hall Entertainment Complex, an outdoor arena.

Dream Weekend - July 28-August 1 Jamaica
Dream weekend is Jamaica's craziest and most anticipated musical festival and urban event that is held every year on the white sands of Negril's famous Seven Mile Beach. For 5 straight days Dream weekend takeover the entire Seven Mile Strip of Negril with back-to-back parties with popular high energy music. Every year, thousands of North Americans and locals take t the shores of Negril to experience some of Jamaica's wildest parties. Parties include bikini parties, paint parties live concerts featuring international artistes and Jamaica's craziest water party at Kool Runnings Water Park. The package includes high-quality liquor, food and a world-class production that makes Dream Weekend a one of a kind urban event.

Leave A Reply
Your email address will not be published. Required fields are marked *