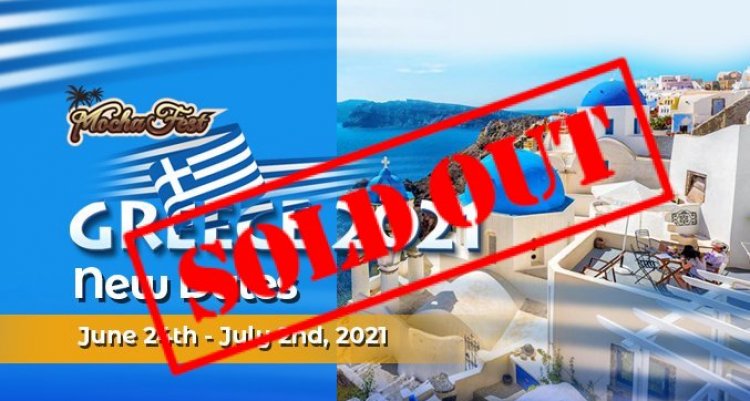 Mocha Fest Greece 2021
24 June
2021
9Days
1:48 PM

Starting At USD 1695.00
OVERVIEW
Our highly anticipated Mocha Fest Greek Island Tour has been moved to June 25th - July 3rd of 2021. With the new dates, this means more spots have become available and you now have more time to make your deposit and take advantage of the easy payment plan. Your number one destination party planners will be hosting you for 8 days through the most popular Islands in Greece. Our 8-day party tour will see us first stopping on the world-famous party island of Mykonos, where will enjoy afternoons of beach parties and champagne shows. We'll enjoy club hopping and beach days on Ios Island, watch legendary sunsets over the Volcanos from a winery in Santorini, then tour historic sites in Athens before heading back home. This will be a magical experience that you deserve to be a part of.


Your package includes Hotel Accommodations for 8 days, 8 breakfasts, ground transportation, 2 ferries (Mykonos to Ios, Ios to Santorini), access to Mocha Fest reserved areas at beach clubs and bars, access to Mocha Fest exclusive events, Guides for your entire trip, Mocha Fest welcome gift bag.
*Flights not included.
Let us help you scratch this one off your Bucketlist. Join us in Greece from June 25th - July 3rd 2020! BOOK NOW!!!

Getting There

Your Mocha Fest Greece itinerary starts on June 24th 2021. This means that you will need to be in Greece by the 24th. If you are flying from any city in North America, please bear in mind that you will be between 7 – 10 hours behind Greek time. This means you will lose up to 10 hours flying there. You will need to book your departure flight a day or two before the actual start date of the trip. You will want to book a roundtrip flight from your home city to Athens International Airport (ATH). Make sure you are landing in Athens on the 24th of June. Once you have booked your Roundtrip flight to and from Athens, you will need 2 more domestic flights. One flight from Athens to Mykonos on the 24th of June, and the other flight from Santorini to Athens on the 1st of July. We will assist you with these two domestic flights once you have confirmations for your international flights and you email it to us. The 2 domestic flights will be between $50 and $100 but could be over $100 if you wait last minute to book them.

SCHEDULE
| Day | Time | Activity | Description |
| --- | --- | --- | --- |
| Thu June 24th | 08:00PM | ARRIVAL IN MYKONOS | Welcome Dinner and Meet n Greet On Platys Gialos Beach |
| Thu June 24th | 11:00PM | MYKONOS NIGHTLIFE | Explore The Nightlife Of Chora (Mykonos Town Centre) |
| Fri June 25th | 02:00PM | BIKINI POOL PARTY | Yellow Bikini Pool Party At SantAnna Beach Club |
| Fri June 25th | 11:00PM | CLUB HOPPING | Club Hopping In Little Venice |
| Sat June 26th | 11:00AM | SHOPPING AND LUNCH | Shopping and Lunch In Mykonos Town |
| Sat June 26th | 04:00PM | HAPPY HOUR | Happy Hour Beach Party At Tropicana |
| Sun June 27th | 05:00PM | ARRIVAL IN IOS ISLAND | All White Sunset Party At Pathos |
| Sun June 27th | 10:00PM | CLUB HOPPING | Club Hopping In The Town Of Ios |
| Mon June 28th | 11:00AM | LUNCH AT MAGANARI BEACH | Scenic Drive and Lunch at Maganari Beach |
| Mon June 28th | 04:00PM | HAPPY HOUR | Happy Hour Pool Party At Farout Beach Club |
| Tue June 29th | 05:00PM | ARRIVAL IN SANTORINI | Sunset Dinner at Santo Wines Winery |
| Tue June 29th | 10:00PM | ALL BLACK & GLOW | All Black & Glow Party At Enigma Nightclub |
| Wed June 30th | 11:00AM | EXCURSION AND SITE-SEEING DAY | |
| Wed June 30th | 06:00PM | DINNER AND SUNSET | In the town of Oia |
| Wed June 30th | 10:00PM | HOOKAHS AND HANG-OUT | on Kamari Beach |
| Thu July 01st | 11:00AM | ARRIVAL IN ATHENS | Optional Site-Seeing, Shopping or Relaxation At Your Hotel |
| Fri July 02nd | 12:30PM | Departure | Depart From Athens Back Home |