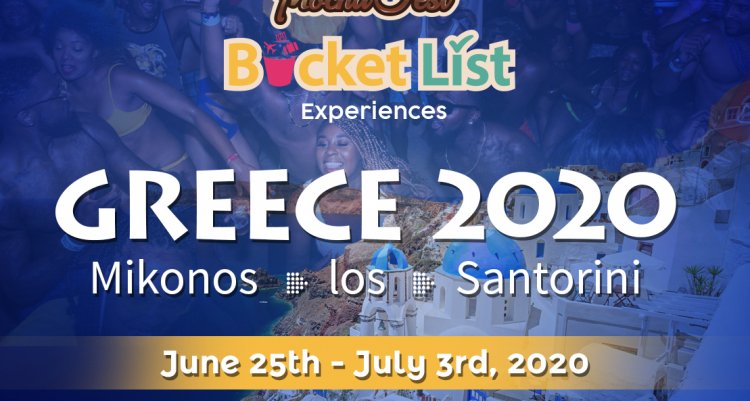 Mocha Fest Greece 2020
25 June
2020
9Days
4:45 PM
Greece, Mykonos, Ios, Santorini , Heraklion, Greece
Starting At USD 1495.00
OVERVIEW
We are taking the Mocha Fest flavour to the hottest party Islands in Greece. Join your Mocha Fest host crew, for 8 days of afternoon beach parties, ATV riding, late-night clubbing, island hopping and site-seeing in the Mediterranean. Your tour fully hosted party tour will take you from Athens to Mykonos, to Ios Island and finally, Santorini. Your package includes; Hotel Accommodations for 8 days, Tour guides and hosts for the entire trip, VIP areas and bottle service reservations at the hottest Nightclubs in Mykonos, Private Villa Party, site-seeing and dinner reservations, Ferry cost between islands and a special party backpack with lots of surprise goodies and trip essentials.

This is the first of our Mocha Fest Bucketlist experiences and definitely one you cannot miss. Space is limited to no more than 50 people and so you want to secure your spot as quickly as possible. A $200 per person deposit is required to hold your spot and the balance to be paid in as many as 10 payments depending on the time of booking.

Let us help you scratch this one off your Bucketlist. Join us in Greece from June 25th - July 3rd 2020! BOOK NOW!!!
SCHEDULE
| Day | Time | Activity | Description |
| --- | --- | --- | --- |
| Thu June 25th | 05:05PM | 3 Days In Mykonos | Mykonos is, without doubt, the most popular party island in Greece and one of the most famous party destinations in the world. We are starting off your Mocha Fest Greece experience with a bang by spending 3 full days in Mykonos, hopping from afternoon Beach Parties at Tropicana, to Club Hopping at Night in Little Venice, and maybe even staying to party until Sunset at Cavo Paradiso. |
| Sun June 28th | 12:00AM | 2 Day On Ios Island | Ios Island is one of my favourite Islands in Greece. It is filled with breathtaking views, beautiful hidden beaches, and best of all, super affordable. The real reason we love Ios Island though is that the main town of Chora has over 40 of the coolest bars in the world and you can hit-up every single one of those bars in a single night without having to call an Uber. |
| Wed July 01st | 12:00AM | 2 Days In Santorini | Santorini is one of the most Picturesque places on earth and the most popular among all the Islands in Greece for very good reason. From beautiful Sunsets in the town of Oia to lazy days on the Perissa Beach and Clubbing in the town of Thira at night time, you can find it all in Santorini. This will be the last of our Greek Island stop and it will be filled with moments you want to savour. |
| Thu July 02nd | 12:00AM | Athens | Spend your last day in the Capital Site-Seeing and Unwinding from what will most certainly be one of the best travel experiences of your entire life. |